Passover Seder for Adults
Friday, April 19, 2019
•
14 Nisan 5779
7:30 PM - 10:00 PM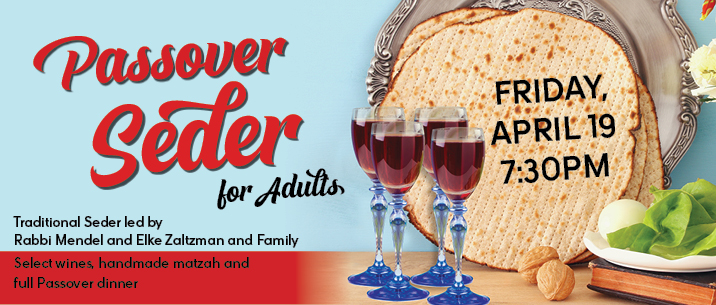 Passover Seder for Adults
Join Rabbi Mendel and Elke Zaltzman and family for a timeless Passover experience, discovering and celebrating Passover with anecdotes, stories, great traditional food, handmade Shmurah Matzah, and choices of wines and grape juice.
By Reservation Only:
Before March 31, Adults: $55 Child: $35.
After March 31, Adult: $65 Child: $40
Complimentary to Partners in Pride (must be logged in)
Resigstration Will Be Closing Tuesday, April 16, at 6pm.
Register
Registration for this event is closed. 

We also look forward to seeing you at our upcoming events.


Upcoming Events
Share Print Save To My Calendar
Wed, June 26 2019 23 Sivan 5779